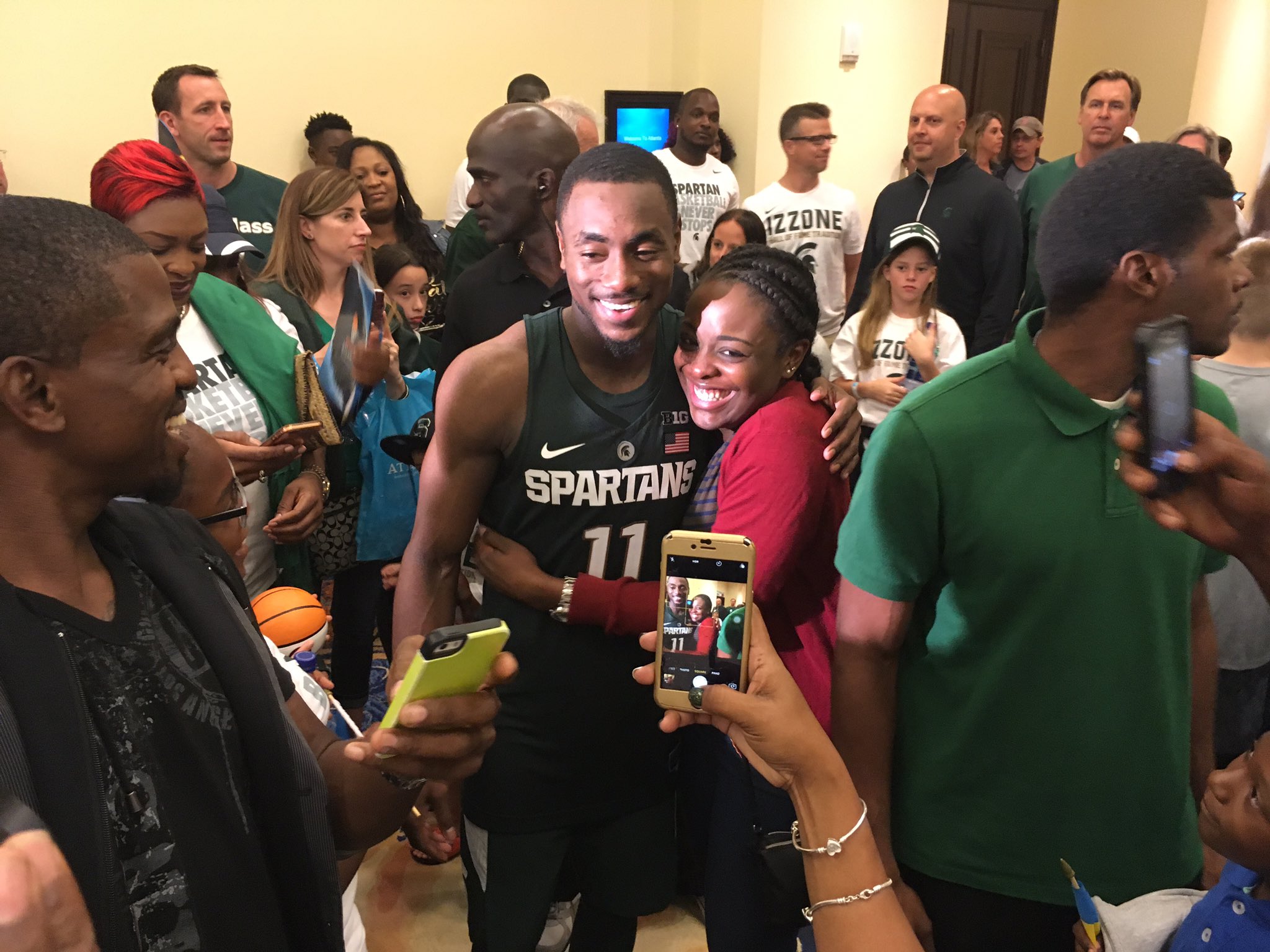 Michigan State's Tum Tum Nairn Jr. poses for pictures with family and friends after Wednesday's win against St. John's in the Battle 4 Atlantis near his hometown of Nassau, Bahamas. (AP Photo/Aaron Beard)
Lourawls "Tum Tum" Nairn Jr. certainly attracts a crowd at the Battle 4 Atlantis.
The Michigan State junior guard grew up in Nassau, Bahamas, and the Atlantis resort in Paradise Island where the three-day tournament is being held is about 10 minutes from home. His first game couldn't have gone much better; he matched his career-high with 13 points, hit a career-high three 3-pointers and even threw down a transition dunk to shrieks from family and friends attending the 24th-ranked Spartans' 73-62 opening-round win against St. John's on Wednesday night.
"That's what you do when you go home: you should have one of your best games of your career," coach Tom Izzo said in the postgame news conference. "He hit more 3s tonight than he hit in I think three years."
Izzo paused, heard chuckles, then continued.
"That was only half a joke," Izzo said. "I'm serious."
When it was over, Nairn -- who moved to the United States at age 13 -- had a large crowd waiting for him outside after the postgame news conference. Take a look:
Mich St's Tum Tum Nairn Jr. (native of nearby Nassau) had quite a group of friends/family awaiting him Wednesday at the #battle4atlantis pic.twitter.com/fhLB7uK9UQ

— Aaron Beard (@aaronbeardap) November 24, 2016
"It's a blessing," Nairn said. "My great-grandmother's 80, she was there. My grandfather was there, my dad was there. It's just something I don't take for granted. I was happy to see them there."